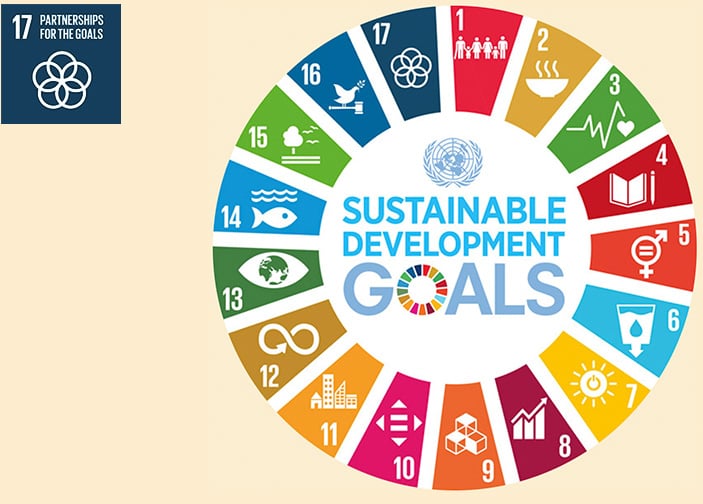 Partnerships for the Goal
For 3 years we have been working together with leading organisations and private sector partners towards a greener and fairer Fashion world. We know that our potential to create meaningful change is much greater when we join forces with others and are committed to our partnerships as means to achieve sustainable development.

We are proud of our work with multi-stakeholder partnerships that promote the development, transfer and dissemination of environmentally sound technologies for the fashion industry across borders.

Being a responsible business is important to us, which is why we are B Corp. House of Baukjen was awarded a 'Best for the World' badge for scoring in the top 5% of all B Corps in the area of Governance in 2021.

House of Baukjen recognises the Climate and Ecological Emergency our planet faces and is proud to join the Business Declares initiative. We will continue to act and report on progress to tackle this crisis, both within our company and the industry.


Clean water & sanitation
Looking at the responsible use and disposal of water, with a focus on lowering consumption
Progress to date
Our relative water consumption this quarter was 33% lower than same quarter in 2020, with progress to date being better than our target
We measure water use associated with the production of our garments and trims using secondary data
Responsible disposal of water post-production
Our factories follow our Code of Conduct and have strict processes in place to ensure they are not contributing to water source pollution.
Climate Action
Lowering carbon emissions in order to limit global climate change
Progress to date
Our relative carbon emissions this quarter were 24% lower than same quarter in 2020, with progress to date slightly below our target
We measure the carbon emissions of our business across scopes 1, 2 and 3 (including the production of our garments and trims from cradle to gate) using secondary data
We now only manufacture our clothes within Europe to reduce our transport related emissions, but in the past we have produced items outside of Europe and you might still find these in our Outlet
Committed to limiting global warming
We are committed to limiting global warming to 1.5C and have signed the UN Fashion Charter Renewed Commitment, the Fashion Pact pledge and the Terra Carta Sustainable Markets Initiative launched by HRH The Prince of Wales
Life Below Water
Preventing water pollution to reduce impact on life below water
Reducing use of synthetic fibres
5.0% of our all our fibres used in this quarter were synthetics, of which 26.2% were recycled feedstock, with the other 73.8% being stretch fibres such as elastane. Reducing overall use of synthetic fibres is essential to reduce microplastic pollution, and we are committed to eliminating conventional synthetics from our products
Halting microplastic pollution
Beyond limiting the use of synthetic fibres, we take special care to avoid them in frequently washed items. We support the use of GuppyBag and PlanetCare to collect harmful microfibres and microplastics when washing garments – check out our selection of Eco Laundry products
The impact of microfibres in the environment is not fully understood so we're listening to the experts so we can do our best to not be a part of the problem
70% of post-consumer plastics in the oceans come from packaging. Ours is 100% plastic free. Read more about our Packaging
Life on Land
Protecting terrestrial ecosystems and promoting the sustainable use of land resources
No Deforestation on our watch
We source only deforestation-free materials. 100% of our cellulosic fibres (viscose and lyocell) originate in responsibly managed forests and come from Canopy Green Shirt suppliers
All our catalogues and paper packaging are certified by FSC or PEFC
Protecting Nature
We complete a yearly Biodiversity Benchmark to highlight key areas in which we impact Nature as a brand
We give preference to Organic natural fibres which are less polluting for the surrounding ecosystem
Our leather does not contribute to deforestation and is sourced from European tanneries who responsibly manage chemicals and take extra care not to pollute the surrounding environment
We have a comprehensive restricted substance list (RSL) including Chromium VI for our leather, and chlorobenzenes for our recycled polyester and polyamide to protect biodiversity which is essential to all life on planet Earth
We are working to implement REACH UK and ZDHC guidance throughout our supply chain to further gain control over use of hazardous chemicals
Decent Work and Economic Growth
Proud to be a Living Wage employer
We are a Living Wages company, meaning that all of our employees including contractors are paid a living wage (which is above minimum wage)
Decent and safe work in supply chain
Our clothing manufacturers are bound by our strict Code of Conduct, paying their staff living wages and maintaining healthy work schedules
Policies for Sustainable Economic Growth
We scored 100% in the Impact Business Model section of Governance in our stand-out B Corp application
We run our warehouse in a low-income community to promote sustainable economic growth
Reduced Inequalities
10% of profits donated each year
We donate at least 10% of our profits each year to charities. We continue to support charities including NHS Charities Together, GOSH, Oxfam, Strut Safe, World Land Trust, Prince's Trust and Birth Companions through campaigns, products, and direct donations.
Read more about this work in our Philanthropy page
We always endeavour to support underprivileged people across our supply chain, namely by supporting the employment and training of people from underprivileged backgrounds
Responsible Consumption and Production
Responsible materials and production
96.4% of the materials used for Isabella Oliver clothing in this quarter were from responsible sources, meaning their origin is traced or they are produced with a smaller environmental footprint
96.4% of the fibres used in this quarter have a proven lower environmental impact
We are a Zero Waste business
We are a Zero Waste company, meaning that over 90% of our "waste" is neither landfilled nor incinerated. Our manufacturers in Portugal are also committed to a waste-free world and send the majority of their "waste" to recycling
Responsible packaging
We ship our clothes in 100% plastic-free, recyclable and biodegradable packaging made from a recycled paper mix
Circularity and Transparency
We operate a take back scheme and a recycling scheme, through which we mechanically recycle old garments into new fibres
Our production line follows a fully circular model. We ensure we never overproduce our garments, and we have never sent clothing to landfill or incineration

Industry, Innovation and Infrastructure
We use innovative materials and work with suppliers who continuously invest in environmentally sound technologies .

We support the development of circular economy infrastructure, including improvement of recycling at production and use of recycled materials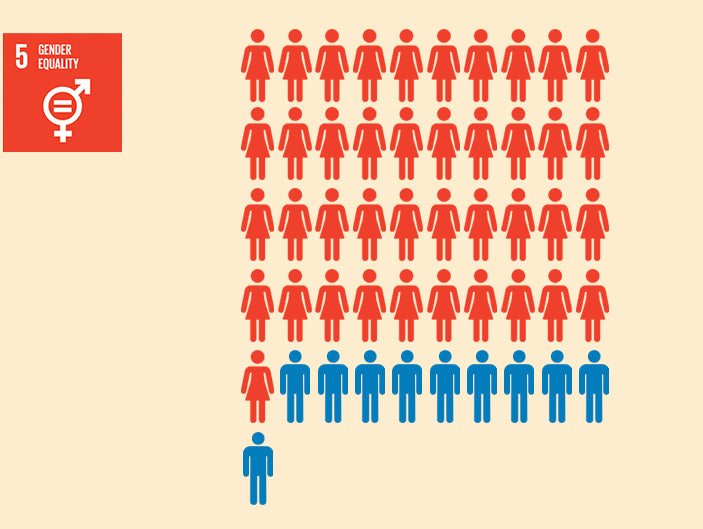 Gender Equality
Empowering Women
We're proud that 80% of our team is female, with women across all levels of the business including over 50% female representation on our Board and Executive Management levels.
48% of our garments in Q3 were produced in factories owned or controlled by women.
Zero pay-gap in our company
We are proud to pay our employees based on their roles and regularly do a pay equity analysis. We can confirm that as of Q3 2022 the pay-gap is zero.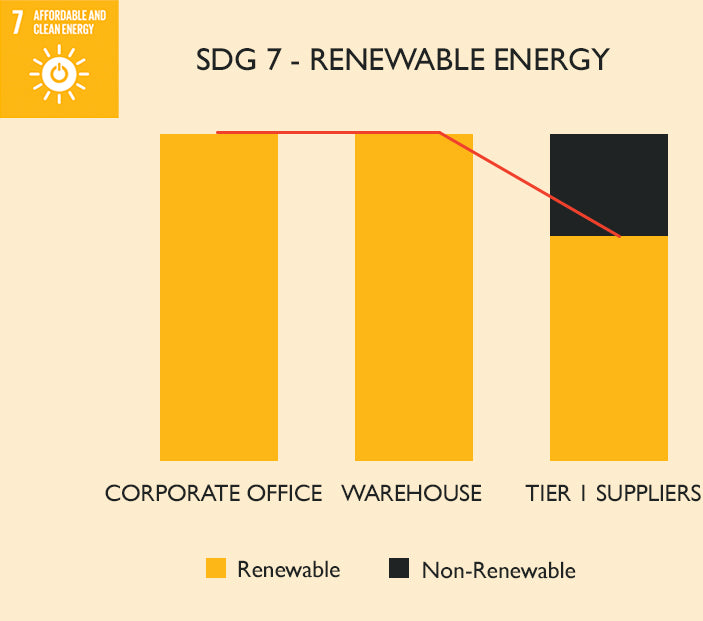 Affordable and Clean Energy
100% renewable energy in our offices and warehouses
We have always used 100% low impact renewable sources in our warehouses and offices.
Green Value Chain
We calculate use of energy for all scopes of our business and track the implementation of renewable energy in supplier facilities.
Through the Fashion Pact we've pledged to implement 50% renewable energy across the majority of our supply chain by 2030.

No Poverty
We are active in the anti-slavery movement, our factories have signed our rigorous code of conduct and we are a Living Wages company. We've also partnered with Oxfam to donate a portion of proceeds from sale of our Pre-Loved collection to fighting Poverty
Zero Hunger
We donate more than 10% of our profits to charities including ones that address hunger. We are careful in our sourcing of natural raw materials so that their agriculture doesn't put strain on food systems.

Good Health and Well-Being
We work to reduce our contributions to pollution, namely air and water pollution which directly impact human health globally. We promote well-being in our supply chain, namely by ensuring good working conditions for workers. We further support charities who are addressing this SDG.
Quality Education
Although we do not directly impact this SDG, we always search for ways to help, for example by donating computers to underserved communities that need them the most and donating materials to local schools.

Sustainable Cities and Communities
We aim to be a force for good in the communities we are inserted in, for example by choosing a Certified Green Building for our office and settling our warehouse in a low-income area. We engage with local communities when possible, try to support local businesses and support fair and sustainable development with our business.

Peace, Justice and Strong Institutions
We actively seek to work only with companies that protect Fundamental Freedoms and enforce non-discriminatory laws and policies for sustainable development. We promote the end of abuse and exploitation through our partnerships and will promptly address any infractions found in our supply chain.
At House of Baukjen we are campaigning for change and striving for hope by disrupting the fast fashion model. We realise that we need to lead by example and encourage others, which is why we pride ourselves in transparency; across our fabrics, supply chain and our circular model including our re-commerce initiatives: Pre-Loved and Care and Repair.
You can consult our Impact Report 2021, where we disclose further information about our Environmental and Social impacts. This report includes TCFD and SASB disclosures.
We are proud of our journey so far, but we are not perfect and there is much more to be done. As we campaign, we encourage everyone to join our movement.
*This impact report reflects the best available information at the time of writing. We rely on a mix of primary and secondary data for our environmental calculations, adjustments to our calculations are sometimes made to reflect new data and can have an impact on the numbers here reported.