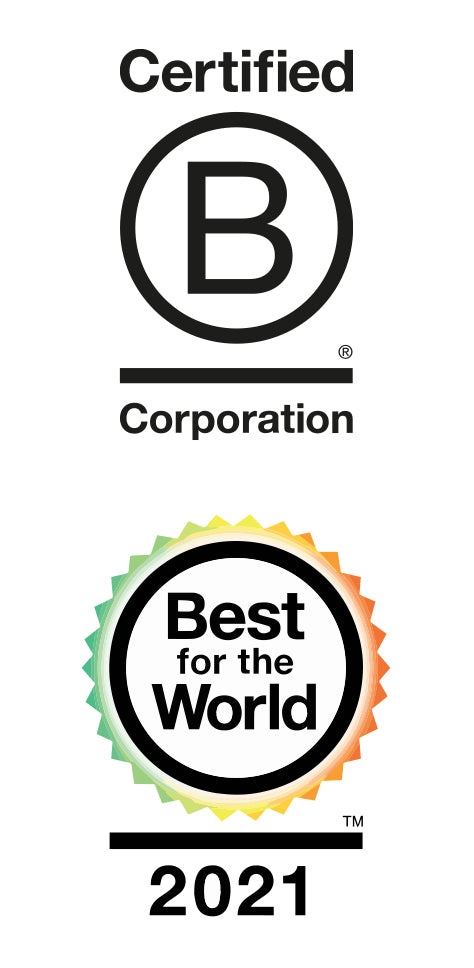 What are B Corp businesses?

Certified B Corporations are for-profit businesses that meet the highest standards of verified social and environmental performance, public transparency, and legal accountability to balance profit and purpose. B Corp is a certification administered by the non-profit B Lab, which evaluates not just a product or service, but the overall impact of the company.

This differs from other certifications because it takes on a holistic view at business, ensuring that B Corps prioritise the welfare of people and the planet. This certification is very rigorous, so that its logo truly stands for business for good.

The B Corp Certification is divided into 5 impact areas: Governance, Workers, Environment, Community, and Customers. The resulting Impact Assessment is then verified through multiple external checks requiring documentation for the questions answered.


We rank amongst the top 5% of B Corps in Fashion in UK and Europe.

As part of our mission to be a Business for Good, House of Baukjen has pursued the B Corp Certification, which we officially received in March 2021. We are very proud to be part of a community that believes that business can (and should) have a positive impact.

We're also delighted to be one of the highest scoring B Corps in Fashion in the United Kingdom, which is a true testament of our efforts to be ethical and eco-friendly in an industry which has been troubled in these areas for so long.

House of Baukjen is ranked amongst the top 5% of B Corps in Fashion in UK and Europe.

Our score is something we are incredibly proud of as a relatively small team working everyday to better the future of the world.


Our pledges to be a business for good moving forward

As members of the B Corp community, we embrace their pledge to reduce inequality, lower levels of poverty, create a healthier environment, strengthen communities and create more high-quality jobs with dignity and purpose.

The B Corp certification comes with legally binding commitments, on which we will be assessed every three years in order to maintain our certification.

We are continuously looking to lessen the negative impact of our clothes and grow the positive impact of our business. As of 2021, our focus is on gaining transparency on all levels of our supply chain, sourcing more environmentally friendly materials (including recycled) and on growing our circular initiatives. These three areas of focus will in turn have positive repercussions on the communities and the people, near and far.

As a growing business, we are also actively looking at how we can scale up without doing damage to our planet. We acknowledge that everything we do has an environmental impact and are committed to being leaders in slow fashion.



You can find out more about our impact on our Impact Report page, and more about our commitments to Planet and People.

You can read more about the B Corp certification here.