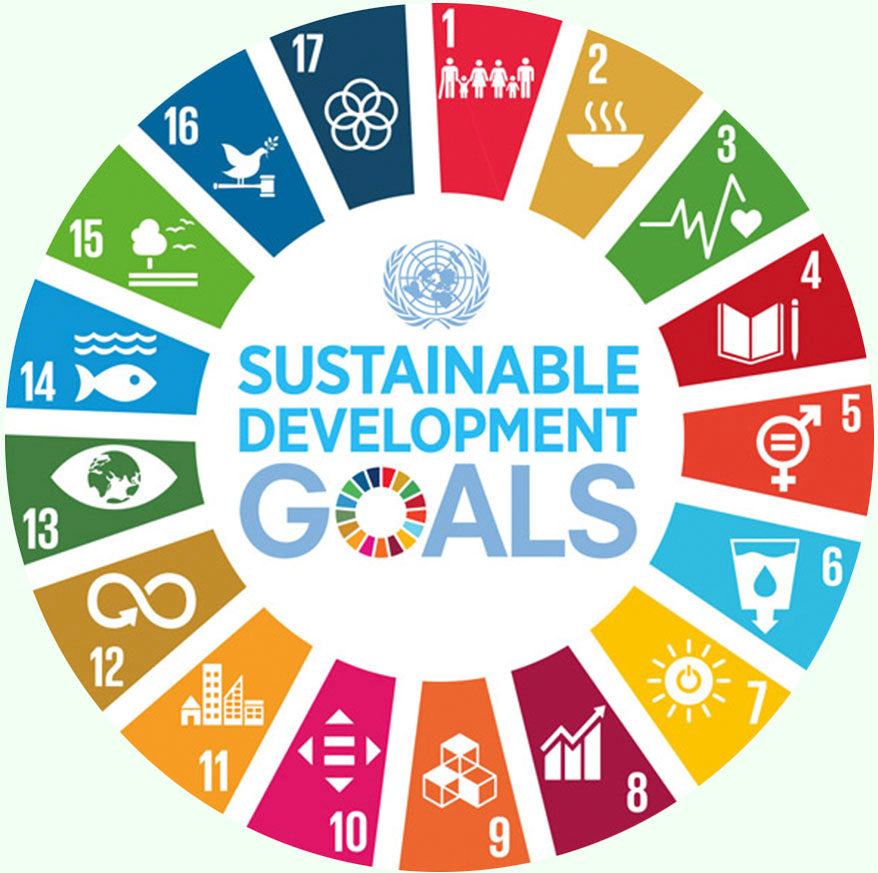 House of Baukjen proudly works with the key global organisations to deliver a better world. Amongst others The Fashion Pact, the UN Fashion Charter, the Sustainable Apparel Coalition and Science-Based Targets for Nature. In fact, there are less than 50 fashion companies in the world that work with this powerful group of organisations. We are also very proud to be a certified BCorp.

For our impact report we have adopted the United Nation's Sustainable Development Goals (SDGs) framework which consist of 17 goals which form a universal call to action to end poverty, protect the planet, and ensure that all people enjoy peace and prosperity by 2030.

The foundation of this framework consists of four Biosphere Goals as precondition for eight Social Justice Goals, four Economic Development Goals together underpinning the ultimate Sustainable Development Goal. This contrasts the usual 'economy first' approach to sustainable development and is in line with the fact that we are a B Corp.

We understand the importance of these goals but can't focus on all 17 SDGs at the same time, so we have and are focused in specific on all biosphere goals (6, 13, 14, and 15), and several other key goals across society (5, and 7), and the economy (8, 10, and 12). Please click here to find out more about SDGs.

We are excited to share our journey to a better world.
Clean Water and Sanitation
Ensure availability and sustainable management of water and sanitation for all.
Our factories follow our code of conduct to ensure that water pollution and hazardous waste production and disposal are always avoided
We have achieved a 38% reduction in water usage in our value chain this year and are aiming for an even greater reduction next year through using fibres with lower water consumption and treatment.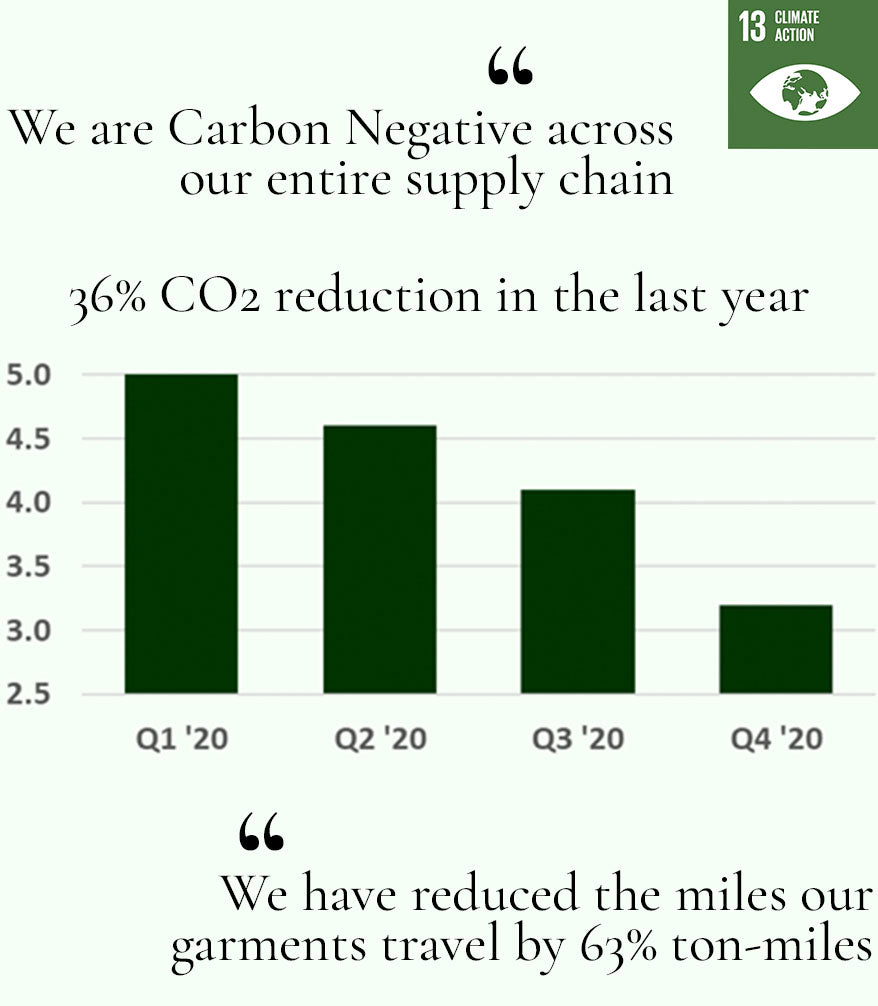 Climate Action
Take urgent action to combat climate change and its impacts.
We are completely Carbon Negative across our entire supply chain as of 2020, creating impact beyond traditional business boundaries. Carbon Negative means that an activity goes beyond achieving net zero carbon emissions to actually create an environmental benefit by removing additional carbon dioxide from the atmosphere
In line with the Paris Agreement, we have signed to not rise above 1.5 degrees pre-industrial levels and encourage other businesses to join us to achieve this goal together and save the planet.
We have reduced the miles our garments travel by 63% ton-miles the past twelve months.
We have achieved a 42% reduction in synthetic fibres in the last quarter and continue to make improvements as it is not sustainable enough.
We have teamed up with Carbonfootprint, reducing our carbon output, as well as supporting projects including improved energy efficiency, reducing deforestation, and clean drinking water.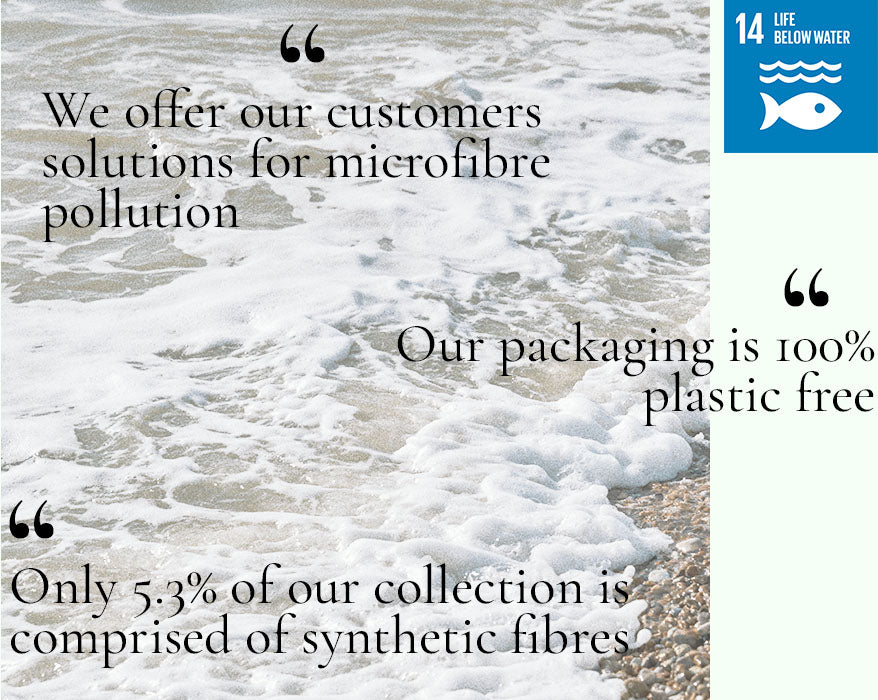 Life Below Water
Conserve and sustainably use the oceans, seas and marine resources for sustainable development.
Synthetic materials shed microfibres that pollute our oceans, so we avoid where possible these fabrics
We promote solutions to our customers that prevent microfibre pollution in the oceans
We proudly support GuppyBag and PlanetCare to collect these harmful microfibres when washing garments during the use phase
70% of plastic in the oceans comes from packaging. Ours is 100% plastic free.
By using Econyl in our collection we divert waste from the ocean to create new clothing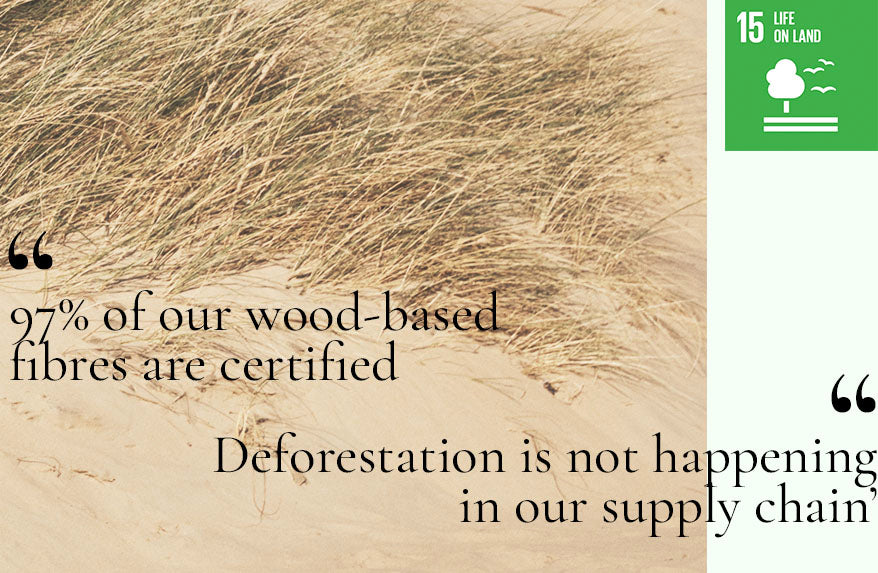 Life on Land
Protect, restore and promote sustainable use of terrestrial ecosystems, sustainably manage forests, combat desertification, and halt and reverse land degradation and halt biodiversity loss.
Each tree is not equal. Therefore, we only plant trees and mangroves in areas with rich biodiversity. This helps to restore nature, instead of disrupting existing ecosystems like grasslands and peatlands
Deforestation will not happen on our watch. All the viscose in our collection is sourced from sustainably managed forests.
We have incorporated more EcoVero fibres into our range. The eco-responsible production process of this fibre generates up to 50% lower emissions and water impact compared to conventional viscose
In 2020, we converted 69% of our entire conventional viscose production to EcoVero while still supporting the same raw material suppliers.
Gender Equality
Achieve gender equality and empower all women and girls.
We're proud that 76% of our team are women
Women are represented across all levels of the business including the ownership
We donate clothing to Smart Works to support unemployed women in need.
We are proud to pay our employees based on their roles and regularly do a pay equity analysis. We can confirm that as of Q4 2020 the pay-gap is zero.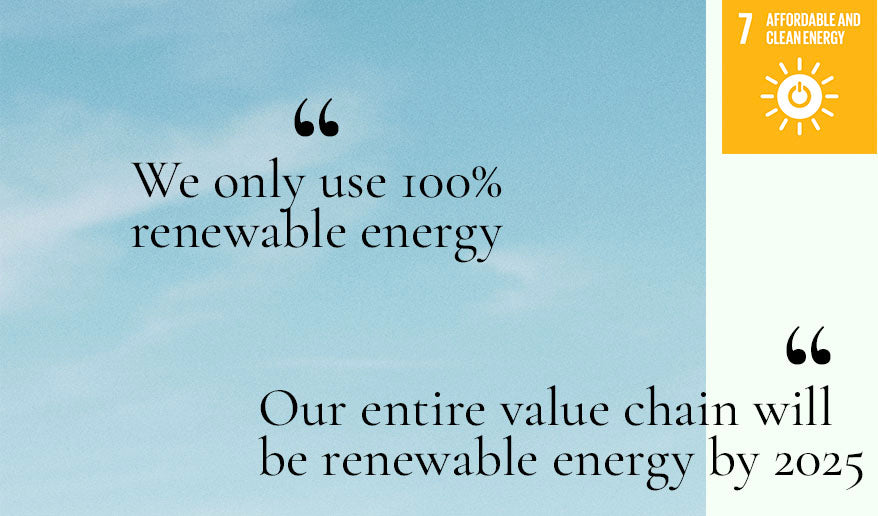 Affordable and Clean Energy
Ensure access to affordable, reliable, sustainable and modern energy for all. 
We have always used 100% low impact renewable sources in our warehouses and offices
Through the Fashion Pact we've pledged to implement 100% renewable energy across the majority of our supply chain by 2030. We are on track to achieve this by 2025.
No Poverty
End poverty in all forms everywhere.


We only source raw materials from certified sources with no modern slavery.

Zero Hunger
End hunger, achieve food security and improved nutrition and promote sustainable agriculture. 
We donate more than 10% of our profits to charities including ones that address hunger.
Good Health and Well-Being
Ensure healthy lives and promote well-being for all at all ages. 
During the COVID-19 pandemic, we donated over 30,000 re-useable face masks to those in need.

Quality Education
Ensure inclusive and equitable quality education and promote lifelong learning opportunities for all. 
We donate computers and materials to underserved communities and local schools.

Sustainable Cities and Communities
Make cities and human settlements inclusive, safe, resilient and sustainable.
We ensure our employees are as safe as possible during these times, not travelling to work unless essential.

Peace, Justice and Strong Institutions
Promote peaceful and inclusive societies for sustainable development, provide access to justice for all and build effective, accountable and inclusive institutions at all levels. 
It is in our DNA to be as inclusive, peaceful, and planet positive as possible.
ECONOMIC DEVELOPMENT GOALS

Decent Work and Economic Growth
Promote sustained, inclusive and sustainable economic growth, full and productive employment and decent work for all.
Our facilities have signed our rigorous code of conduct and we are a living wages company.
Reduced Inequalities
Reduce inequality within and among countries.
We donate at least 10% of our profits each year to charities. In the past twelve months, the charities include Great Ormand Street Hospital, NHS Charities Together, Women & Children First, Women's Trust, Diana Award and Every Mother Counts
We work with factories that are women owned and run
We support underprivileged people including women across our supply chain.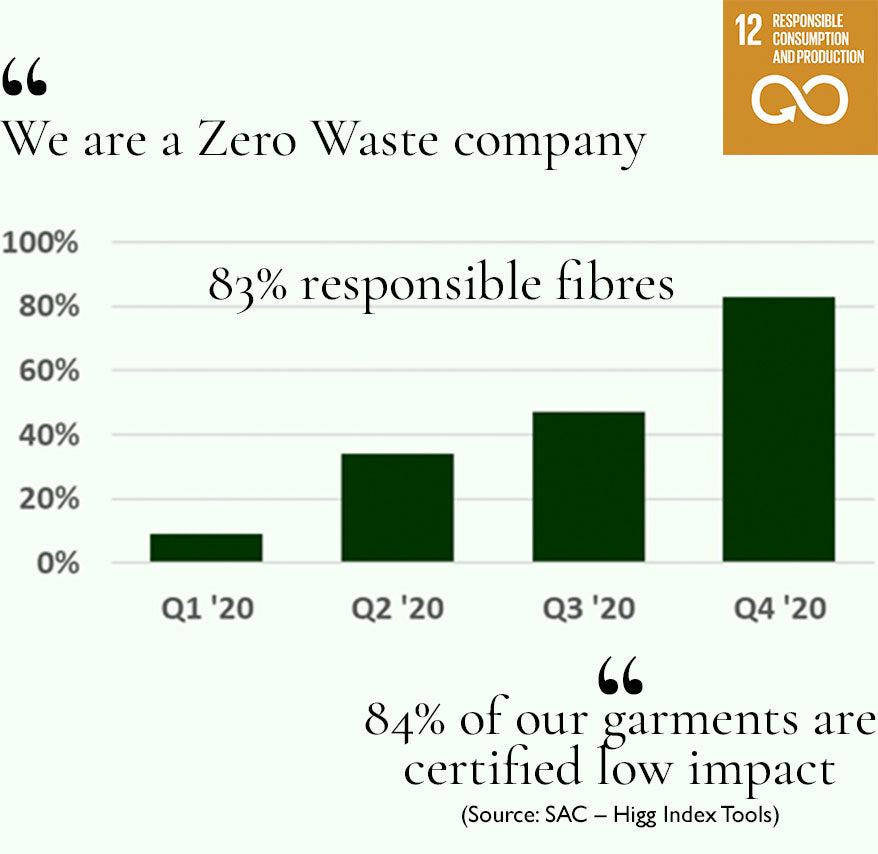 Responsible Consumption and Production
Ensure sustainable consumption and production patterns.
83% of our collection is made from sustainable fibres. This is a 63% improvement year on year
We are a Zero Waste company. This means we have eliminated all discharges to land, water or air that are a threat to planetary, human, animal or plant health
100% of our parcels are plastic free. Our packaging is also 100% biodegradable. We are on track to be completely plastic free in our supply chain by 2025
Our production line follows a fully circular model. We ensure we never overproduce our garments, and we have never sent anything to landfill or incineration
If the customer no longer needs our garment, they can return it to us so we mechanically (not chemically) recycle it into new fibres for future collections
We are proactively collaborating with Kellogg academia from the University of Chicago to ensure our pre-loved program is as effective and environmentally friendly as possible
We are incorporating blockchain and AI technology into our supply chain and are working on innovative solutions with Supply Compass and Freedom Row to optimize our supply chain, and strengthen digital infrastructure.

Industry, Innovation and Infrastructure
Build resilient infrastructure, promote inclusive and sustainable industrialization and foster innovation. 
We are developing bespoke sustainable fabrics and supporting pioneering recycled fabric innovations.
SUSTAINABLE DEVELOPMENT GOALS
Partnerships For The Goal
Strengthen the means of implementation and revitalize the global partnership for sustainable development.
We encourage everyone and other businesses to be more ethical and sustainable, following the inspiring SDG guidelines.
We are proud of our journey so far, but we are not perfect and there is much more to be done. We are campaigning for change and encourage everyone to join our movement.
Click here to view the 2021 Q1 Impact Report