COP26 and its importance in creating a better future for new generations
COP26 is currently making the headlines but it's perfectly normal to feel a little confused as to what it is and what to expect from this meeting of world leaders, thought leaders, climate professionals and other environmental parties. In this journal entry we aim to shed some light on it ahead of Isabella Oliver and Baukjen, the two House of Baukjen brands, being represented in Glasgow.
COP, which stands for the Conference of the Parties, is a series of global climate summits under the United Nations Framework Convention on Climate Change (UNFCCC), which has been happening since 1995. COP is the supreme decision-making body of UNFCCC that includes representatives from all the countries that are signatories (or 'Parties') to the UNFCCC who come together to discuss how climate change will be tackled and to agree on global and national targets. COP26 is the 26th United Nations Climate Change conference, that will be held at the SEC Centre in Glasgow, Scotland, United Kingdom, from 31 October to 13 November 2021.
"26th session of the Conference of the Parties" is particularly important as it is the first major test of the Paris Agreement, where Parties negotiated and agreed to keep Global Warming well below 2C and pursue efforts to not exceed 1.5C above pre-industrial levels. It is also the year for nations to submit their new long-term goals to lower emissions. It has taken the last five years for countries to create the plans they are presenting in Glasgow this November, yet they are still subject to negotiation. At the end of COP26 all nations are to sign their pledges so we can globally stabilize the levels of atmospheric CO2 and halt Global Warming.
Also, COP26 will finish the most complex discussion that remained incomplete during COP25 by setting the rules for a carbon market between countries. This will also include allocation of carbon budgets to different nations considering that some countries are still developing their energy infrastructure and industrial capacity.
As natural disasters become more common and warnings about climate change become more urgent, protecting the planet for future generations will require global action in the following three areas: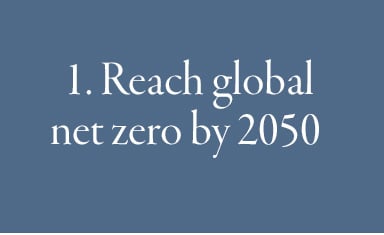 A strong action on carbon emissions is required to align with the Paris agreement and reach net zero by the middle of the century. This should be initiated by setting ambitious 2030 emissions reductions targets, accelerating the phase-out of coal, and encouraging investment in renewable.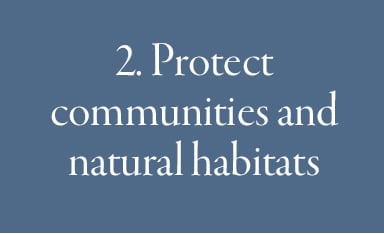 Our planet is already changing because of global warming, and it will continue to change with devastating effects with some countries being more affected than others. Thus, collective action is needed to protect and restore ecosystems for future generations, create more resilient infrastructure and agriculture to protect communities, human and animal lives, as well as build defenses and warning systems.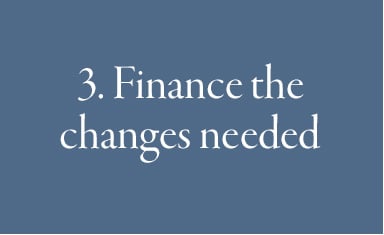 The developed nations have failed to keep the promise made at COP15 to provide US$100 billion a year to fewer wealthy nations by 2020 to help them adapt to climate change. Thus, governments and international financial institutions need to ensure necessary financial support to tackle this global challenge.
COP26 will not only bring nations and global leaders, but it will also host big firms and business leaders. Their presence at COP26 shows the crucial part industry plays in limiting emission and shaping the green economy. Companies are addressing emissions throughout their operations and supply chains by making greener choices, switching to renewable energy and more efficient use of space and resources. Further, it has also become important for companies to engage and embrace opportunities around Environmental and Social Governance (ESG) and make good social and business sense by exploring and investing in innovative tech, products, and services. The policies agreed at the summit by governments will also filter down into regulations reshaping the landscape in which businesses operate. This will not only increase pressure on industry to reduce emission, but a substantial private finance would be required to support action plans.

The unprecedented disruption caused by Covid-19 triggering simultaneous global market lockdowns threw many challenges to industries. However, the governments have stood still by taking urgent actions to protect businesses and jobs. This proves that it is possible for industries and government to adapt and implement new measures at a pace. Thus, same commitment is required for climate mitigation and response planning to better manage the climate related systemic risk in the future.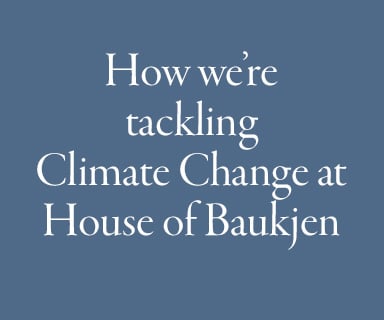 At the House of Baukjen we consider sustainability a core value, and we recognize our environmental and social responsibilities. We take pride in ensuring the best practices across our operations and with our partners. We only work with trusted and certified factory partners who share the same sustainable vision and continuously work towards reducing their environmental footprint and achieving ethical and social standards. We have also been innovative in our use of materials, namely creating our own eco-friendly Ponte jersey and through our approach to circularity in fashion. Our efforts have resulted to the 2nd quarter of in reduction of our relative emissions by 25% from the 2nd quarter of 2019 2021. We are working hard to improve our impact, which you can read about in our Impact Report.

A sleeveless take on our bestselling Kelsey with plenty of space for your growing bump. It has a side-sewn belt...
If you buy just one thing to see you through your pregnancy, make it Araminta. This is your hard-working LBD...