Whether you're a social butterfly or plan on nesting at home, we've got your off-duty looks covered.
What constitutes a great weekend wardrobe? To us, it's comfortable and considered pieces that take you from a morning coffee right through to an impromptu dinner. And being pregnant, well - that still very much applies!
Versatile staples are always a smart place to start, so consider what you most enjoy wearing and apply them to your maternity wardrobe. For example, if it's joggers or relaxed pants, our Eda style are a wide-leg stretch jersey shape with an elastic waistband.
If jeans are your weakness, we have both skinny and boyfriend silhouettes with over-the-bump bands. And if athleisure is your thing, our simple Kerrison leggings will see you through pregnancy yoga and onto brunch in style.
Next, go for a graphic top with stripes - we have both relaxed silhouettes (like Arden, available in three colourways) and bump-hugging styles (like our Cap Scoop designs). Then reach for an extra layer like our Raffa chambray shirt, which you can wear open, or a cosier, oversize sweat like Holly.
A couple of dress options are a savvy move for spring, especially if you're headed out and about. Our striped Oona dress and Kelsey shirt dresses are best-sellers for very different reasons: Oona is as casual and easy as they come, while Kelsey offers a touch of chic.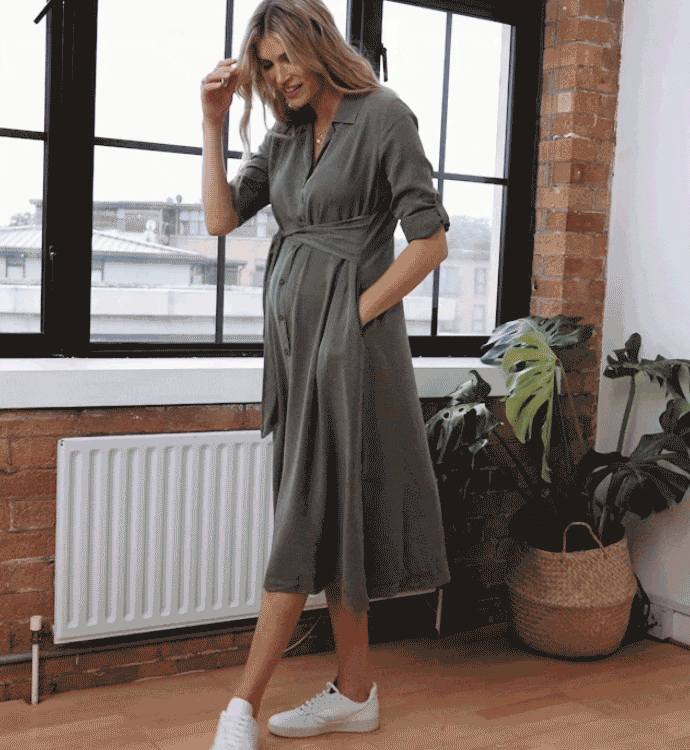 Put it this way - you'll still be pining for a three- day weekend!
A sleeveless take on our bestselling Kelsey with plenty of space for your growing bump. It has a side-sewn belt...
If you buy just one thing to see you through your pregnancy, make it Araminta. This is your hard-working LBD...