The Conversation - Bridget March
Bridget March is the Digital Beauty Director for Harper's Bazaar, overseeing everything from beauty, to fitness, to well being. Pregnant with her second baby, we caught up with her to quiz her on everything pregnancy and beauty – from her go to products to her favourite beauty Instagram accounts.
Follow her on Instagram here.
Congratulations on baby number 2! How far along are you and how are you feeling?

Thank you! I'm 22 weeks and feeling much better than I was. A little less like I have a daily hangover!


How did you get into your role of Digital Beauty Editor?

I studied journalism at Westminster University and began interning at editorial websites in my final year. I progressed at the publishing company Natmags - which is now Hearst UK - starting as an editorial assistant at Cosmopolitan, and I'm now Digital Beauty Director at Harper's Bazaar.


Have you always been a big fan of beauty and makeup?

Always. My high school work experience placement was at the local beauty counter in Debenhams, Gloucester (not as glamorous as I'd hoped, but it gave me a good insight into beauty retail!). If YouTube had existed then, tutorials would have been my TV; when I was a teenager, I had all the gear and no idea! I'm still a product junkie, but since working in the beauty industry it's skincare that's become my passion.
How have your beauty regimes changed whilst pregnant?
I stop using products with certain active ingredients including retinol (which benefits lines, pigmentation and breakouts), and also products with certain essential oils in. In both my pregnancies I've experienced hormonal acne, which I'm not normally prone to. To control this, I have been using The Ordinary's Azelaic Acid (as advised by the amazing dermatologist Dr Sam Bunting). Gentle, and safe in pregnancy, this antibacterial ingredient helps minimise breakouts, reduce redness and scarring. And it only costs £5.50! My hair has become drier (also likely thanks to hormones), so I've introduced a hair oil which I would never normally use on my fine hair which can become flat easily. I was sent the new Virtue Healing Oil to test (sadly way pricier at £40) and it's incredible. Somehow it gives my hair life as well as the hydration it needs.
What is your favourite topic to write about within beauty?

I love how 'beauty' can cover many things; artistry, fashion and trends, nutrition and science. It's much more varied than I had imagined when I started out. But my favourite topic to write about is skincare. I love interviewing dermatologists, aestheticians, cosmetic chemists and product developers to understand more about the skin and how we should treat it.


How (if at all) do you think this pregnancy has differed to your first?

The nausea hit me within two weeks this time, whereas last time it came on around seven weeks. I'm definitely more relaxed this time though, and confident in trusting my instinct about what's 'normal' or not. I just wish I had as much opportunity to rest as last time!


How do you think your son will react to having a little brother?

It will be a four-year age gap between them, so he's old enough to understand what's happening. He talks to the baby, stroking my tummy and saying he can't wait to meet his little brother. It's adorable.
What's your go-to pregnancy outfit?
In general, midi/maxi dresses and hiking boots are my day-to-day work uniform, but I also find over-the-bump maternity jeans and long shirts an easy alternative. I've had so many lovely remarks on my white Isabella Oliver Kelly Maternity Shirt in the office, which means a lot given I work at a fashion magazine!
Three products you couldn't live without? (pregnancy or not)

Dr Sam's Flawless Cleanser: this is my perfect cleanser and I genuinely miss it when I run out. It has a clear, fragrance-free gel formula that's refreshing and effective at ridding the skin of make-up and pollution without at all stripping it. I'd recommend it for all skin types.

Charlotte Tilbury Lip Cheat in Pillow Talk: this really does cheat fuller, more defined lips. I use it with a lip balm on top for a really natural look. Pillow Talk is considered the iconic nude shade and now it's available in 3 versions (Original, Medium and Intense), so it genuinely suits all lip tones.

La Roche Posay Cicaplast Lips: it contains panthenol which works as a humectant, to attract and lock-in moisture, and works as a physical barrier from the environment preventing chapping. Unlike most lip balms that leave you wanting more soon after, this really satisfies - it's the best I've ever tried.
Any beauty tips for other mamas-to-be?
Keep things really simple. If your skin has started playing up, take out any products with fragrance in. If you experience flare-ups or new conditions such as acne, rosacea or melasma (often coined the 'pregnancy mask'), try and visit a dermatologist for advice or have a professional facial with someone experienced in treating prenatal women. When I got acne in my first pregnancy, I had the Murad Blemish Control facial at House of Fraser Oxford Street during my second trimester (they say to check with your GP first before having their treatments). For me, it was really effective at both helping to treat it and advising on managing the breakouts going forwards. Whatever you do with spots: don't pick! The scars aren't worth the temporary satisfaction.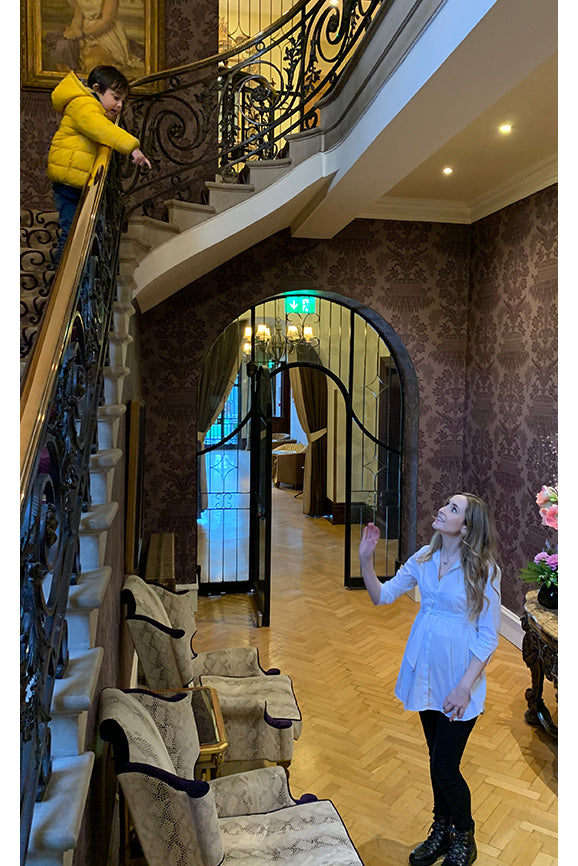 Best beauty pregnancy product?

A dry body brush such as The Mio Body Brush. Circulation can slow during pregnancy, and as I'm not exercising as much as I was before, I've found dry body brushing an easy way to boost circulation and help smooth the skin's surface. I brush my limbs in sections towards the heart to work with the lymph flow. Dry body brushing also helps to energise - which is much needed with you're pregnant.


Favourite beauty accounts you follow on Instagram?

@justbecauseitsbeauty - this beauty writer documents stunning red carpet looks, so if you need some night-out inspiration, look to this

@labmuffinbeautyscience - a cosmetic chemist busting common beauty myths

@terrybarberonbeauty - the legendary MAC make-up artist shares a witty take on trends

@thehairbros - if you want cool haircut inspiration, these Hershesons stylist serve it with informative posts and Stories

@drybylondon - London's coolest manicure destination shares chic, minimal nail art inspiration
A sleeveless take on our bestselling Kelsey with plenty of space for your growing bump. It has a side-sewn belt...
If you buy just one thing to see you through your pregnancy, make it Araminta. This is your hard-working LBD...